"I create wearable sculptural forms combining traditional jewelry materials with contemporary resources. I consider jewelry as a metaphor for "things … maybe burdens" we carry around with us to express our individuality.  My imagery often references symbols of being a woman, using the Flower, Fruit, and Seed to align with Jungian psychology's Maiden, Mother and Crone.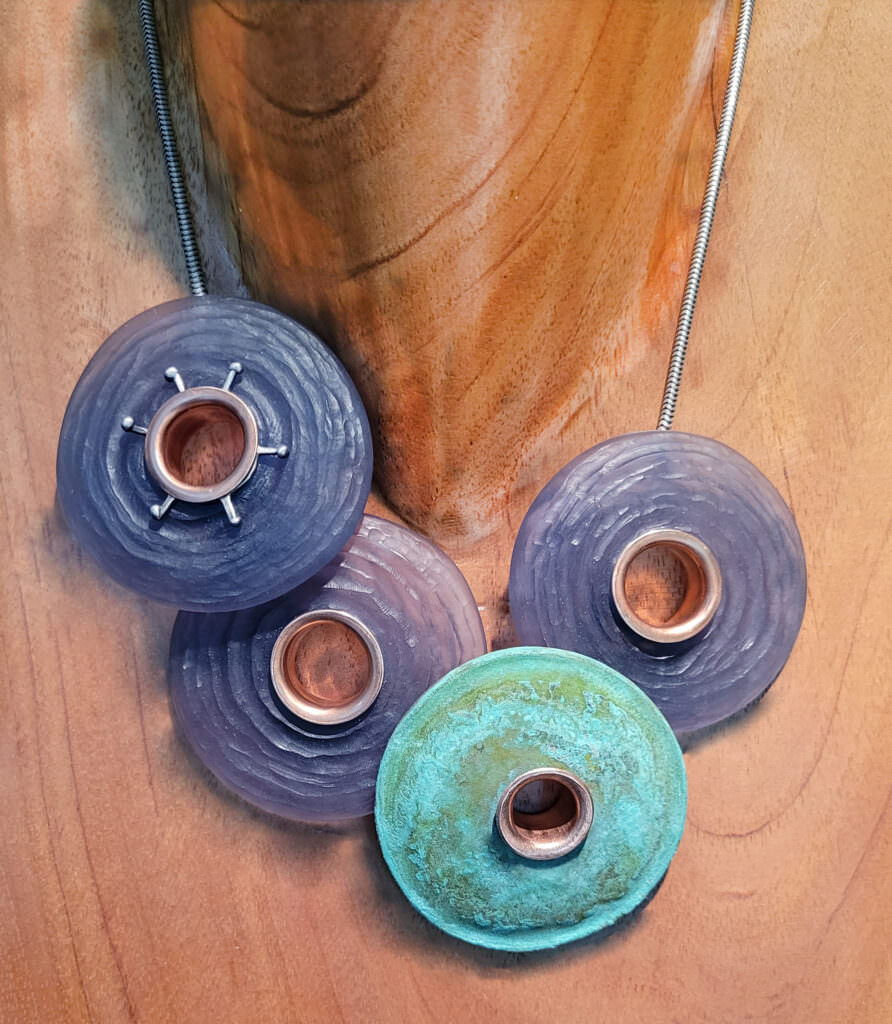 "Over thirty years ago my graduate research involved casting large pieces of tinted acrylic.  A few years ago, I rediscovered large pieces I had stored away.  These once modern, now vintage chunks of acrylic have found their way back into my aesthetic, allowing me to produce fairly large wearable objects that are in fact light weight and translucent.  On a conceptual level, including them again in my work reminds me of the cycles of life, much like the flower."
Ann Lalik is an art administrator, art educator and artist.
As Gallery Director and Arts Coordinator at Penn State Lehigh Valley, Lalik instituted the art gallery and art studio facilities on PSLV's campus in 2010 and continues to work with the faculty and administration to infuse the arts into the campus life.  Prior to her appointment at Penn State, for over 20 years, she served as gallery director, education director and ultimately executive director of the Baum School of Art in Allentown.
Lalik developed jewelry and metalsmithing programs at The Baum School and Penn State Lehigh Valley.  Her teaching career spans more than three decades.
Her studio is located in Allentown.  As an artist, she focuses on designing and creating wearable art objects that chronicle her life as a woman in modern society, using precious and non-precious metals, plastics and repurposed objects.
Education: M.F.A. and B.F.A, Tyler School of Art, Temple University, Philadelphia, PA