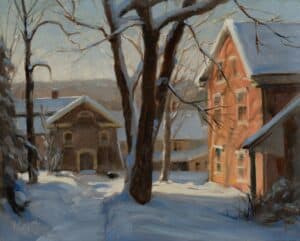 From an early age, Sandra Corpora demonstrated exceptional ability at drawing and painting. She has a BFA in Painting from Kutztown University, receiving the prize for top fine art graduate. Sandra has studied in workshops with Kenn Backhaus, Nelson Shanks, John Osborne, T.M. Nicolas, Scott Jennings and others.
Sandra is a signature member of Oil Painters of America where she won an Award of  Excellence and a signature member of American Women Artists where she's also won an Award of Excellence.   She's also a member of the American Impressionist Society, and the Portrait Painters of America where she was a finalist in the Members Competition.
Sandra Corpora's expressive alla prima oil paintings capture the essence of light and time whether landscape, still life, or figurative. This master painter has travelled widely to paint but she finds equally beautiful painting subjects close to home. All of which you'll see curated for Cocktails and Collecting 2023.