.
Looking for a Unique Space for Your Next Event?
.
Consider hosting your next cocktail party or corporate meeting at the Allentown Art Museum, the heart of the downtown Arts District. With spaces that can accommodate up to 130 guests, the Art Museum is the perfect place for intimate dinners, holiday parties, networking events, and more.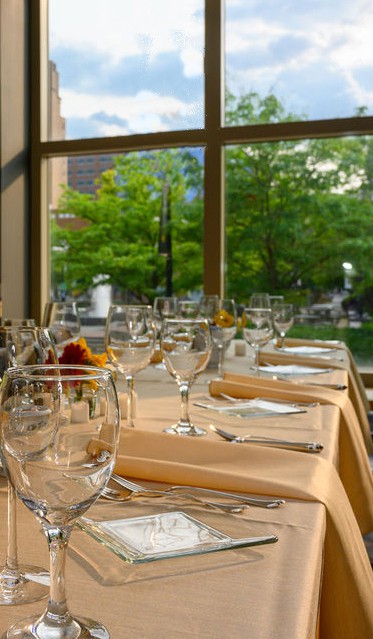 Rental options include the Arts Park View Event Space, located in the front of the Museum, and the Auxiliary Community Gallery, located on the Museum's lower level.
The Arts Park View (800 square feet) offers floor-to-ceiling windows with natural light and stunning views of the Arts Park, the Baum School's Da Vinci horse, and the Symphony Hall mural. The space is beautiful in all seasons and at all times of the day—the ideal setting for after-work gatherings, celebratory dinners of up to 40 seated guests, and business mixers hosting up to 75 guests.
The Auxiliary Community Gallery (1,920 square feet) is a spacious room equipped with a smart podium, wall-sized screen, projector, and audio system. It's the perfect space for staff retreats, business luncheons, and more, with options to accommodate from 25 to 130 guests.
Add a guided tour of the Museum's galleries to your event to transform it into a one-of-a-kind experience.
On-site parking in the Museum's lot at Fifth and Linden Streets is included, with additional spots available on Fifth Street and in several nearby garages.
Impress your guests while supporting one of the Lehigh Valley's most revered cultural treasures. Host your next dinner or event at the Allentown Art Museum.
For more information, pricing, and availability, contact the Museum's events manager, Irene Smith, at 610-432-4333, ext. 154 or email ismith@allentownartmuseum.org.