Beginning on Sunday, January 13, 2019, the Allentown Art Museum will present Carrie Mae Weems: Strategies of Engagement, a collection of more than one hundred photographs, videos, and mixed-media works from an artist the New York Times recently called "perhaps our greatest living photographer."
"Carrie Mae Weems represents what art is about—exposing people to diverse situations and experiences and allowing them to form their own opinions," says Allentown Art Museum president and CEO David Mickenberg. "She is one of our nation's leading artists for a reason: her work is masterful, compelling, and evocative. We're honored to be able to bring her exceptional work to our region."
Weems's work has been exhibited at world-class institutions such as the Metropolitan Museum of Art, MoMA, Museum of Contemporary Art in Los Angeles, and the Tate Modern in London. She received the MacArthur "Genius" grant in 2013 and the U.S. Department of State Medal of Arts, Prix de Rome, WEB DuBois Medal from Harvard University, International Center of Photography Spotlight Award, and a National Endowment for the Arts grant.
Strategies of Engagement continues in Allentown from January 13 to May 5, 2019, presenting more than a hundred photographs, videos, and mixed-media works. Iconic series such as Ain't Jokin' (1987–1988), From Here I Saw What Happened and I Cried (1995–1996), The Hampton Project (2000), All the Boys (2016), and People of a Darker Hue (2016) will be featured alongside others from throughout her distinguished career.
The exhibition is accompanied by a catalogue with essays from the diverse perspectives of art history, literature, race and gender studies, education, sociology, and history. A comment wall in the galleries will allow visitors to post their perceptions of the exhibit and read what others are saying to help foster understanding.
The works in Strategies of Engagement are from the collection of Carrie Mae Weems and Williams College Museum of Art. The exhibition was organized by the McMullen Museum of Art, Boston College. The exhibition was curated by Robin Lydenberg and Ash Anderson and is traveled by art2art Circulating Exhibitions.
Carrie Mae Weems: Strategies of Engagement at the Allentown Art Museum has been funded by Francie Bishop Good and David Horvitz. Additional funding has been provided by Karen and Richard Albert, the Allentown Art Museum Auxiliary, and Magellan Financial Inc. Special assistance and support has been provided by Duggan & Marcon Inc.
Select the image to learn more: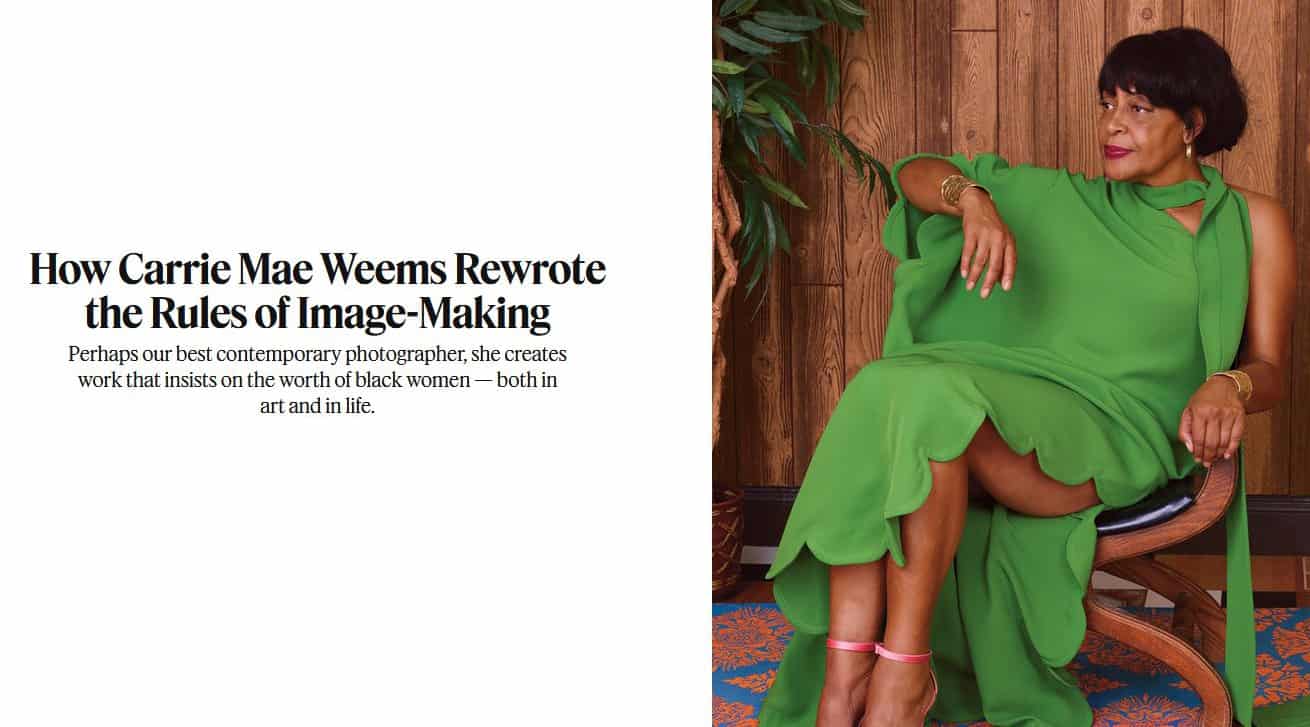 Select the image to watch: