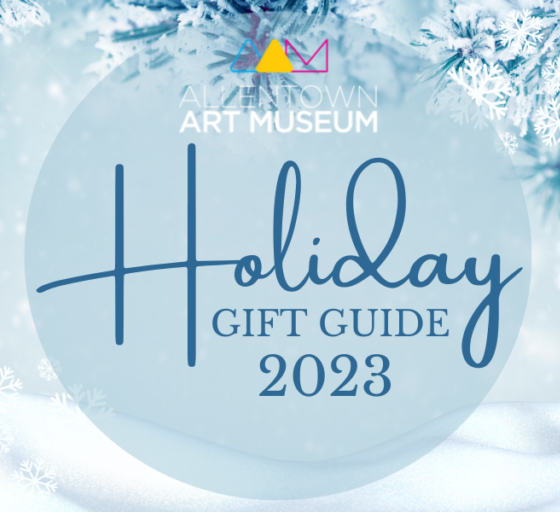 It's that giving time of year!
Find a unique gift for everyone on your holiday list at the Museum Store. Shop in person or online for a broad selection of the most artful gifts in the Lehigh Valley.
See below some of the upcoming shopping events and gift suggestions from longtime Museum Store manager Sharon Yurkanin, then browse the Store online.
BROWSE AND SHOP NOW

Members always get a discount!
Thank you for supporting us all year long, Museum members! We invite you to take advantage of your year-round member discount of 10% off in-Store purchases. Drop by 11 a.m. until 4 p.m. Thursday through Sunday to browse, there's free parking in our Linden Street lot.
Not a member? Become one now and take advantage of the savings.
Give the gift of membership to someone you love and who loves or might love art!
BECOME A MEMBER NOW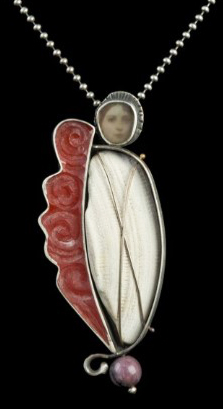 Saturday, December 9, 11 a.m.-3 p.m.
Shop jewelry artist Ann Lalik's newest designs and her popular recycled leather hot pads at this annual pop-up holiday event. One day only!
Sharon recommends: 

Classic Pin Art   ($24)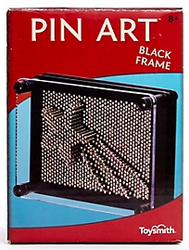 Stimulate the imagination and create three-dimensional pieces of kinetic art with the Classic Pin Art. Pin art uses hundreds of moveable metal pins to create 3D images. The pins are fitted into a sturdy, black, plastic frame that is both lightweight and durable. This version of pin art measures 5 x 7 inches, perfect for a bookshelf or table top.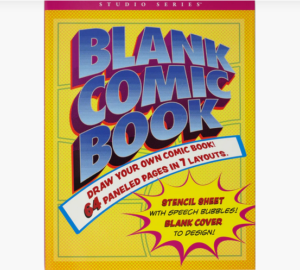 Blank Comic Book    ($5.99)
Create your own comic book! Get creative within these 64 paneled pages! The blank book comes with a stencil sheet with speech bubbles and visual effects so you can make your comics pop! Plus the book jacket comes off and the book has a blank cover, so you can even design, draw, and ink in your own cover design! The blank book measures 8-1/2 x11 inches.
Allentown Street Map Engraved Whiskey Glass   ($18)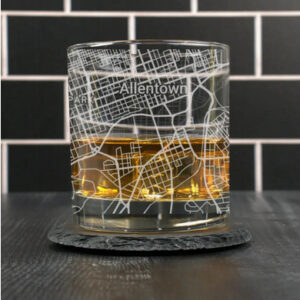 These glasses are not only functional but also add a unique touch of local pride to any setting. Rim tempered and high clarity, these glasses are built to last and withstand daily use and are dishwasher safe. The laser-engraved Allentown city street map design is the highlight of these glasses, creating a captivating visual that is sure to impress.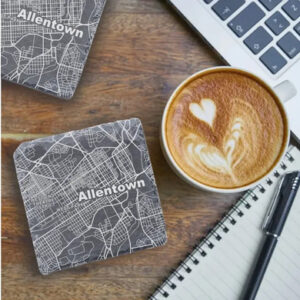 Allentown Street Map Engraved Coaster   ($5)
Crafted from premium slate, these coasters are built to last and withstand daily use. The laser-engraved Allentown street map features intricate details in stunning white. Comes with  foam feet that prevent scratches and provide stability.
My First Arts and Crafts Library   ($35)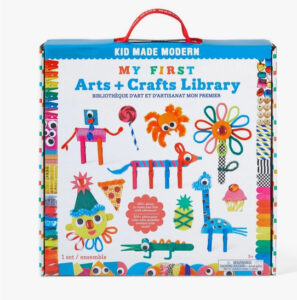 My First Arts and Crafts Library is designed especially for the youngest crafters. More than 200 pieces of art-making materials are included: pipe cleaners, beads, jewels, googly eyes, foam stickers, and lots more to make your child's creative juices flow!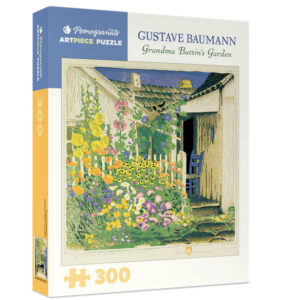 Gustave Baumann Jigsaw Puzzle   ($17.95)
The image on this puzzle is Grandma Battin's Garden (1927) by Gustave Baumann (American, b. Germany, 1881–1971). The artist first made a watercolor painting of this garden in Nashville, Indiana, when he was a member of the Brown County, Indiana, artists' colony. Years later, living in Santa Fe, New Mexico, he created this woodcut print from the image. 300 pieces

Graffiti Gloves   ($72)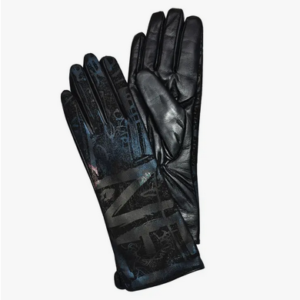 Street art inspires the abstract print on these genuine sheepskin leather gloves featuring ruched detail at the cuff and velvet lining. The soft black leather boasts a cool pattern with an iridescent finish in an extra long 11.5″ to keep wrists covered.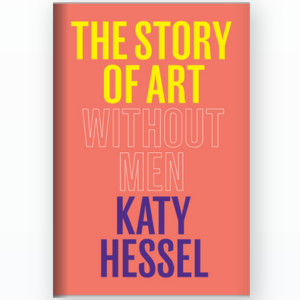 The Story of Art without Men by Katy Hessel   ($45)
The story of art as it's never been told before, from the Renaissance to the present day, illustrated with more than 300 works of art. Discover glittering paintings by Sofonisba Anguissola of the Renaissance, the radical work of Harriet Powers in nineteenth-century United States, and the artist who really invented the "readymade."

The Street Photography Challenge: 50 Tips, Tricks and Ideas to Reinvent your Photography   ($16.99)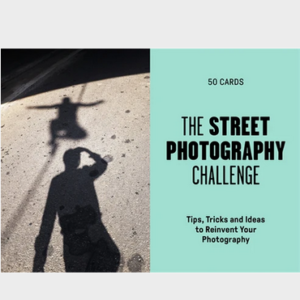 Capture a reflection, play with layers, blatantly blur, or just try and "shoot nothing." The Street Photography Challenge is a boxed set of 50 cards, each giving keen photographers a simple prompt or idea for snapping great images in everyday environments. Also includes 10 bonus cards of inspirational quotes and key tips from some of the legends of street photography.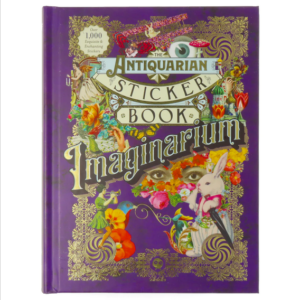 Antiquarian Sticker Book: Imaginarium   ($25,99)
Delight in the pages of this compendium of more than a thousand gorgeous stickers that will capture your imagination with dreamlike collages, inspiring quotations, and vintage ephemera. This charming, gorgeously curated sticker book is perfect for your coffee table or craft table and makes a unique gift!

AAM Mug, The American Collection   ($15)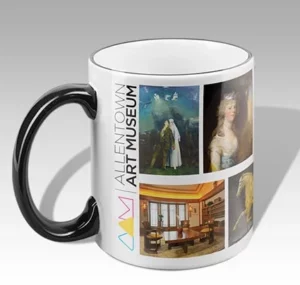 Nine artworks that are favorites from our American Collection are featured in color on this ceramic mug. George Bellows, Frank Lloyd Wright, Henry Ossawa Tanner, and Louis Comfort Tiffany are just some of the artists represented. Enjoy your morning coffee, tea or hot chocolate in a mug from your Museum!
Art Books for Gifting: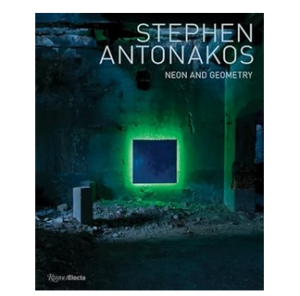 Stephen Antonakos: Neon and Geometry   ($65)
Prolific multimedia artist Stephen Antonakos (1926–2013) is best known for his resplendent abstract neon sculptures—instantly recognizable for their vibrant colors and crisp geometry. This comprehensive book comprises Antonakos's diverse output of neon, canvases, drawings, travel collages, chapels, and gold works, all of which reflect an abiding concern with illumination, incomplete geometric shapes, and an almost mystical spirituality that is manifest throughout his oeuvre.
Yinka Shonibare, CBE   ($55)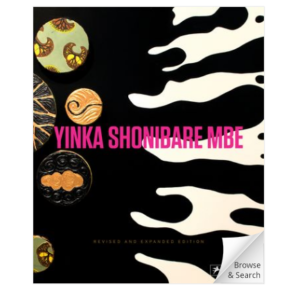 This authoritative book presents the exciting, ironic, and often subversive work of Yinka Shonibare, one of the stars of the international art scene. Born in London and raised in Nigeria, Shonibare employs a diverse range of media—from sculpture, painting, and installation to photography and film—to probe matters of race, class, cultural identity, and history.

Pennsylvania Impressionism   ($75)
In the late nineteenth and early twentieth centuries a colony of artists sprang up along the banks of the Delaware River north of Philadelphia, centered in the picturesque village of New Hope, Bucks County. Known as the Pennsylvania impressionists, this group of artists played a dominant role in the American art world of the 1910s and 1920s, winning major awards and sitting on prestigious exhibition juries.
PLUS MUCH MORE!