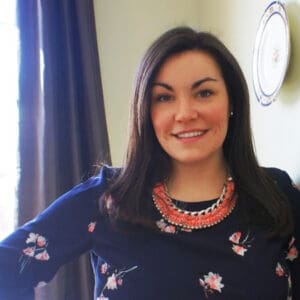 Meet Lauren Bradley, the Chair of the Allentown Art Museum's Cocktails & Collecting 2021 fall fundraiser. Lauren is a specialist in fine art at Rago | Wright, an auction house located in Lambertville, New Jersey. Below she offers advice to serious collectors—like you! You can meet and talk with Lauren at this year's C&C party on Saturday, November 6, from 6 till 9 p.m.
LEARN MORE & PURCHASE TICKETS
Decide what motivates you as a buyer. Are you buying pieces you love, or are you looking to maximize your investment and ultimately make a profit? Either approach is valid, but it is important to make that determination prior to pulling out your credit card. Seek out the best possible examples of an artist's work, no matter which type of buyer you may be.
Educate yourself. Explore various mediums and movements. There are so many great ways to do this in the art world. You can visit museums, galleries, and artist's studios, but also go to previews at auction houses. Most work that comes to auction is consigned from private collections and is ultimately sold to private individuals, so this is a great opportunity to see pieces that are rarely on view. Plus, you can often handle the works, which allows you to get a close look at the frame and verso (back) of a piece. Attending an auction, even as a non-buyer, is a great way to learn.
Establish relationships. The art world can feel intimidating to new collectors, but dealers and auction houses are always happy to welcome new clients. Reach out to professionals in the industry and establish relationships. Don't be afraid to ask questions. Galleries will often offer discounts to collectors, and auction houses will negotiate more competitive terms to repeat consignors. Tell your contacts if there are specific works you are seeking and they will undoubtedly reach out if the piece shows up in their inventory.
Prior to closing the deal, do your homework. Before purchasing a work of art make sure you are getting a fair price by looking at comparable pieces by the same artist. Try to find work that is similar in period, subject, style, and size and see if their prices align. Remember: It is always OK to ask for a better price, but be considerate as this is how artists support themselves. There are a number of other expenses that can arise when collecting, including framing, conservation, additional insurance premiums, and appraisals–keep these in mind.
Keep extensive files. When it comes to collecting art, don't throw anything away. Put together a file where you keep all of the important paperwork pertaining to your purchases, including receipts, gallery brochures, auction listings, conservation invoices, etc. This will come in handy down the road if you do decide to sell. It is also helpful to keep a detailed listing of the pieces in your collection: notes about when/when purchased, cataloguing details, and information you acquired at time of purchase.
Of course, any work of art can have value to its collector. As Lauren says, "trust your instincts and your heart—if it really speaks to you, you can't go wrong!"
Hope to see you at this year's Cocktails & Collecting!