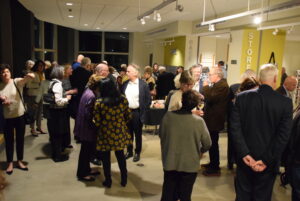 This past weekend the Museum celebrated the opening of three new exhibitions, hosting a member preview night on Friday plus themed activities, tours, and a gallery talk on Saturday and Sunday.
Friday evening was the member and special-guest reception in the Museum's Arts Park View space, with hors d'oeuvres from Simply Smooth Catering and music from SATORI. AAM president & CEO Max Weintraub welcomed all, followed by comments from artist Angela Fraleigh and Iraida Rodríguez-Negrón, curator from the Museo de Arte de Ponce in Puerto Rico.
Saturday, the spotlight was on Nostalgia for My Island: Puerto Rican Painting from the Museo de Arte de Ponce (1786–1962). The day began with a live broadcast from La Mega radio outside of the Museum and a Spanish-language tour of the exhibition led by Jacy Rodriguez, an artist and poet originally from Puerto Rico, now living in New York City. Also featured was live music by Fabricio Orihuela, who performed a selection of pop hits from across Latin America. There was also an English-language tour of the exhibition and Nostalgia themed art during the weekend's ArtVentures program.
Sunday, the focus was on Angela Fraleigh: Threaded with moonlight. At noon, the artist led a gallery talk through the exhibition and spoke about her creative process. Following the talk there was a tour of the exhibition led by the Museum's director of education and public engagement, Abby Simmons.
The new exhibition The Making of Gustave Baumann's El Velorio (The Wake)
also opened this weekend. All three shows continue into 2024.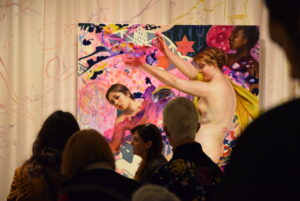 Thank you to all who came out to support the Museum.