Explore the history of art as a form of activism in this Dynamic Conversation Artist and founding director of the Experimental Printmaking Institute at Lafayette College Curlee Raven Holton and Lehigh University professor Dr. Susan Kart focus their comments on works included in Prints and Protest, 1960–1970.
This is a recording of the LIVE program which aired on October 15, 2020. 
Curlee Raven Holton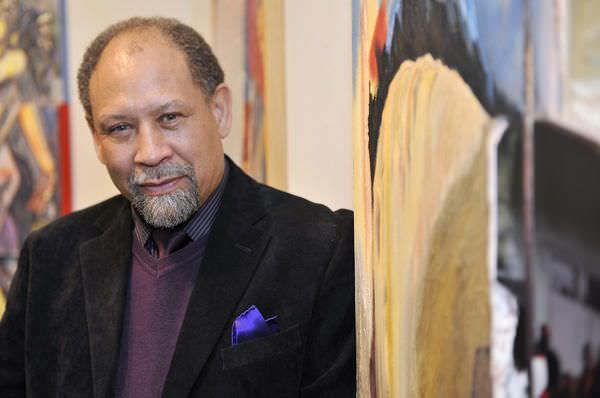 Curlee R. Holton has been the Executive Director of the David C. Driskell Center at the University of Maryland since 2012. The David M. and Linda Roth Professor of Art, emeritus, at Lafayette College.
Holton is a printmaker and painter whose work has been exhibited professionally for over twenty-five years in more than thirty one-person shows and over eighty group shows. His exhibitions have included prestigious national and international venues such as Egypt's 7th International Biennale, the Cleveland Museum of Art, and the Whitney Museum of American Art. His work is in many private and public collections including the Cleveland Museum of Art, Cleveland, Ohio; Yale University Art Gallery; Pennsylvania Academy of the Fine Arts, Philadelphia, Pennsylvania; and The National Gallery of Art, Washington, DC. As part of his research and study as an artist-scholar he has lectured and presented demonstrations throughout the United States and abroad in Europe, Mexico, the West Indies, and Costa Rica. He has presented over seventy public lectures on the subjects of his work, African American art, and contemporary printmaking. He has written numerous articles and essays on art and artists that have been published in catalogues and journals.
Holton earned his M.F.A. with honors from Kent State University and his B.F.A. from the Cleveland Institute of Fine Arts in Drawing and Printmaking. Starting in 1991 as a professor he taught Printmaking, African American Art History and the History of Protest Art at Lafayette College in Easton, Pennsylvania and was also the founding director of the Experimental Printmaking Institute.
Dr. Susan Kart
Dr. Susan Kart joined the Art, Architecture, Design Department and the Africana Studies program at Lehigh University in 2013. Dr. Kart has also taught at Sarah Lawrence College, Smith College, the Savannah College of Art and Design, Vassar College and Columbia University. Her research specializations are on the arts of Francophone West and Central Africa from the colonial period to the present.
Dr. Kart began her career directing the research and documentation components of the James J. Ross Archive of African Images 1590 – 1920: A Database of Published Images of African Art (RAAI), hosted by Yale University. This online database greatly improves access to and understanding of the early documentation of many sculpted objects. Dr. Kart maintains an active interest in both this project and in the study of objects denoted as "historical" within the field of African Art.
Dr. Kart's articles have been published in Critical Interventions, Third Text, African Arts, the African Studies Review, Nka, Visual Resources and the Oxford Art Online (Grove Art Online). She was the African art writer for the Stokstad/Cothren Art History textbook 5th, 6th, 7th editions. Dr. Kart's book based on her doctoral research, Objets Trouvés: Les Sculptures de Moustapha Dimé au Sénégal et Ailleurs, is published with NEAS in Senegal. The Body in African Art: Contemporary Artists and the Colonial Past (Routledge) will be her first English book, arriving summer 2021.