Become an architect like Frank Lloyd Wright and design your own space!
Artist Frank Lloyd Wright (American, 1867–1959) created architecture modeled around his client's needs and the environment. The room shown above—which is part of the Museum's permanent collection—is a library designed for the needs of the Francis Little family.* The clean and simple architectural design includes wide-open windows with a design inspired by prairie wheat stalks.
Architects like Frank Lloyd Wright consider their client's needs when designing spaces—and now you can too! Use these design prompts to start designing:
Design Challenge One:




Your client is an artist who wants a studio designed. Your client's partner is also an artist and they both have four young children and two dogs. They need a wide-open area with lots of storage and table space, large windows for natural light, a bathroom, and a sink. Not necessary, but they would prefer a small kitchen in case they're in the studio for an extended period of time. They would also like an area where their children can hang out while they work. The family enjoys nature and would like that to be incorporated in the design.

Design Challenge Two:




Your client has dreamed of opening an art gallery for a very long time, and have contracted you to design the gallery. They need one very large front room for the main gallery, tall walls with lots of space, and large front windows that allow you to see into the gallery from the street. They will also need a bathroom, back room with room for storage, and an office. The client would also like the gallery to be handicap accessible, with wide doors, open floor space, and easy bathroom access. Not necessary, but they would prefer an intriguing gallery-front to attract visitors.
Ways to Create Your Design:
Option One: Create a Digital Design Online
Floorplanner is a free online software that lets you draw accurate 2D plans within minutes and decorate these with over 150,000+ items to choose from. Use the above prompts to render great looking 2D & 3D images from your designs with just a few clicks or share your work online with others.
START DESIGNING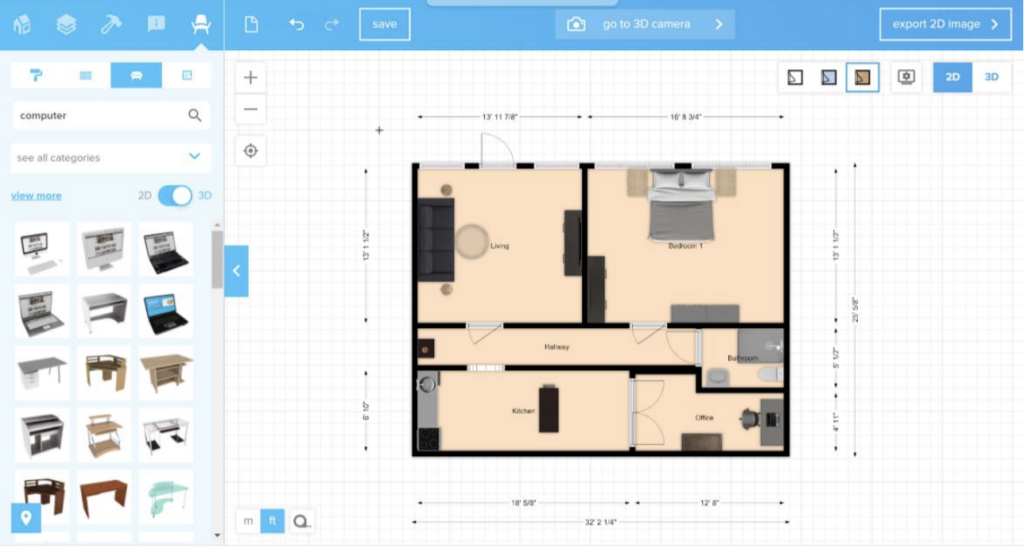 Option B: Draft Your Own Design Blueprint
Blueprints are some of the oldest forms of architectural drawings. 2D blueprints include the size and shape of all rooms, doors, windows, and other structural details. Some blueprints even include furniture placement. Use the above prompts to design your own blueprint
Supplies Needed:
Paper
Pencil
Ruler (optional)
Steps to Create Your Own Blueprint:
Brainstorm the structural design of your building.
Begin sketching your blueprint, noting the size of rooms, doors, windows, and more.
Add final details such as furniture and a front façade to complete your blueprint.
---
Share Your Art on Social Media!
Tag @atownartmuseum & #AAMatHome.
*Featured image, top: Frank Lloyd Wright, Library from the Francis W. Little House, 1912-1915, white oak, plaster, glass, copper-electroplated zinc, brass. Allentown Art Museum: Gift of Audrey and Bernard Berman, 1972 (1972.94)