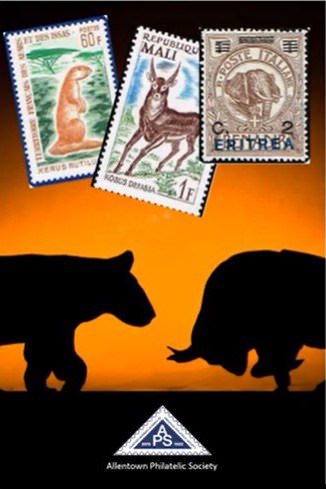 The Allentown Art Museum welcomes the Allentown Philatelic Society into its Community Gallery to celebrate the Society's 100th anniversary of stamp collecting. The public is invited to attend a club reception at the Museum on Saturday, June 3, 2023 at 1 p.m., when stamp art created by Allentown School District (ASD) students in grades k-12 will be on display. Students who participated in a postage-stamp-design contest in partnership with the Allentown School District Foundation will be receiving prizes totaling over $1,000 from the Society. Students were asked to create their own stamp designs that incorporated animals.
Did you know:
–Animals are depicted on postage stamps more than any other subject
–Stamp designs typically include: a main subject, the name of the issuing country, price (cents, dollars, Euros, etc.), and sometimes the year the stamp was issued
–Allentown Philatelic Society meetings are held on the first Tuesday of every month beginning at 7 p.m. at American Legion Post 367 in Whitehall, and the public is welcome to attend.
–The Eastern PA Stamp Show (EPASS) will be held on July 8, 2023, at the Schnecksville Fire Hall from 9:30 a.m. until 3 p.m.
–Collecting stamps is a fascinating hobby!
Come to the Museum on June 3 to see stamp art, meet stamp collectors, and maybe begin a new hobby.