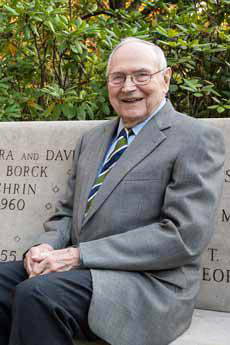 Friends of the Allentown Art Museum remember former President of the Board and longtime Honorary Trustee Leon Holt Jr. as a soft-spoken man of few words, but decisive. When he spoke, we listened. That directness served him well in his 30-plus-year career at Air Products, where he grew the company and his reputation, and in directing the community-building support provided to so many through his Holt Family Foundation. As AAM's Board President he contributed his business savvy as a leader but also brought a genuineness and kindness to his interactions with anyone connected to the Museum. Leon and his beloved wife, June, who herself was a founding member of the Society of the Arts (SOTA) and like many SOTA members was full of energy, presided over many important Museum events, acting as thoughtful and personable stewards of culture in the Lehigh Valley. Since then, the generous support of the Leon C. and June W. Holt Endowment has made possible countless exhibitions, programs, and activities at the Museum that have engaged and enriched so many members and visitors for decades.
With Leon's passing, we as an organization feel grateful to look back and celebrate the Holts' enthusiasm for art, their courtesy and kindness, and their enduring dedication to the Museum they loved and that loves them back with immense respect and gratitude.
Please click the button below to get a fuller appreciation of Leon's life and his profoundly positive impact on his community, including on our Allentown Art Museum:
READ MORE ABOUT LEON HOLT JR.