Welcome to the first online edition of Third Thursday at the Museum! Through past Third Thursdays workshops and performances, we're exploring how the human body is used as a basis for art study and a way to share art through movement.
Exploring Body of Art at the Museum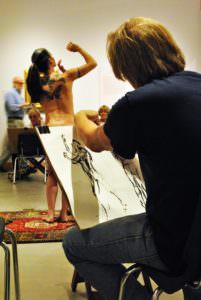 Students beginning their journey in art education typically study the body through life drawing and courses such as anatomy and physiology.
On Third Thursday in August 2014, the Museum hosted a Wine & Poses life-drawing session for artists of all levels and abilities to practice capturing the contours of a live model. Art educators were on hand to offer on-the-spot critiques and guidance on technique.
The Museum also opened its galleries to the art of choreography, in partnership with Muhlenberg College Theatre and Dance Department. Dancers from the program learned how to move their bodies and react to the artwork through music, visuals, and storytelling.
On Third Thursday in March 2015, students from the Muhlenberg College Theatre and Dance Department responded to the contemporary art installations in Scheller Gallery with a choreographed dance.
On Third Thursday in August 2018, we celebrated the vibrant culture of India through dance, film, music, and more during the Museum's first-ever Bollywood party. Bollywood is not one specific style of dance but a collage of many dance styles set to hit songs.
On Third Thursday in April 2019, Muhlenburg College senior dancers, under the direction of Karen Dearborn, adapted several dances to the art in a few of our galleries.
Body of Art in Our Collection
Many works throughout the Museum and in our collection are inspired by the human body and are ripe for observing in the context of the theme.
VIEW NOW
Watch while reading about stop 2 on the tour. The first five minutes discusses cut and the body as well as display on T-shaped forms versus mannequins.
Time to Get Trivial
---
The Museum's Third Thursday programming is aimed at engaging and inspiring our community and introducing new families to art. We hope you enjoyed this virtual Third Thursday and will join us next month!