Explore images of the Christian Madonna, the Virgin Mary, as a spiritual and cultural icon in this Dynamic Conversation. Religious scholar William Gruen, PhD, and Philadelphia-based artist Holly Trostle Brigham look at the intersections of art, beauty, power, and feminism presented in Evolution of the Spiritual: Europe to America.
This is a recording of the LIVE program which aired on December 17, 2020. Please view this PowerPoint presentation at 05:03 of the recording.
Holly Trostle Brigham
Holly Trostle Brigham is a watercolor painter who creates life-sized figures depicting historical and mythological women. Brigham collaborated with award-winning poet Marilyn Nelson to produce a Sacred Sisters, a series about nuns who were artists and writers, launching it at the Cathedral of St. John the Divine, NYC, in November 2016. This artist book can be seen at twelve other locations including Smith College, Lafayette College, Penn State, and the Smithsonian Institution. In 2018, Brigham completed her second artist book, Mother Monument, a collaboration with MaryAnn Miller and eight women poets.
Brigham attended Smith College where she studied art history and Italian, studying abroad in Florence, Italy. She went on to study art history at the graduate level at the University of Pittsburgh, fine art at the Pennsylvania Academy of the Fine Arts, and then earned her MFA in painting at George Washington University. She has taught at Pasadena City College, Worcester State College, the Worcester Art Museum, and the Baum School of Art.
William "Chip" Gruen, PhD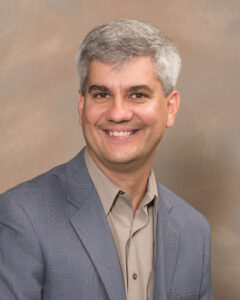 William "Chip" Gruen, PhD is Professor of Religion Studies at Muhlenberg College. In addition to chairing the Religion Studies Department, he also serves as the director of the Institute for Religious and Cultural Understanding. Dr. Gruen joined the Muhlenberg community 14 years ago after completing his doctoral degree in Religious Studies at the University of Pennsylvania. He has also matriculated at the Hebrew University of Jerusalem, the University of Cincinnati, and the University of Kentucky.
Dr. Gruen was published in a wide variety of highly respected outlets, including the Journal for the Study of the Pseudepigrapha, Early Christianity, and Inside Higher Education, among others. In addition to his current research on funerary decorations in the Roman Catacombs, he is currently writing on how religion and religious diversity are approached in public discourse.
His courses at Muhlenberg College cover the emergence and history of Christianity from its Jewish roots to the present. Dr. Gruen also teaches theoretical and comparative courses that challenge students to consider religious belief and practice from new and inventive perspectives.