As institutions with missions to serve the public, museums have a responsibility to foster equity and inclusion both inside and outside their walls. Explore museums and their relationship to their communities during this Dynamic Conversation.
Panelists Rev. Dr. Gregory Edwards of Resurrected Life Community Church, professor and multidisciplinary artist, Karina Skvirsky, and Director of Inclusion at the American Alliance of Museums, Andrew Plumley explore these themes and how they relate to both communities across the country and to the Lehigh Valley:

This is a recording of the LIVE program which aired on January 21, 2021. 
Rev. Dr. Gregory James Edwards
Rev. Dr. Gregory James Edwards is Founder and Senior Pastor of the Resurrected Life Community Church, United Church of Christ, and President and CEO of the Resurrected Community Development Corporation. Under his leadership the church and community development corporation have experienced exponential growth, evidenced by membership, financial self-sufficiency, and employment creation.
Dr. Edwards is the Director of POWER-Lehigh Valley, the areas largest interfaith community organizing initiative, Board Chair for Promise Neighborhoods of the Lehigh Valley, board member for PA Stands Up, co-founder of Lehigh Valley Stands Up, and board member for the Community First Fund, the financially largest Community Development Financial Institution (CDFI) in Central Pennsylvania and the Lehigh Valley focused on improving the economic well-being of historically marginalized, and under represented communities in Eastern Pennsylvania. He previously co-chaired the Water Fountain Project, a regional task force comprised of African American and Latinx political and community leaders committed to addressing educational and economic inequities in the greater Lehigh Valley.
As the first person of Black African Heritage to run for federal office in the Lehigh Valley of Pennsylvania, his historic candidacy for Congress in 2018, was covered by MSNBC, the New York Times, the Washington Post, the Atlantic, Guardian Magazine, NOW THIS, and a hosts of other media, and featured in the PBS documentary "Battleground." In 2019 he was appointed Chair of the Lehigh County Democratic Black Caucus, and in 2020 he was appointed to the Pennsylvania Democratic State Committee.
Read Rev. Dr. Gregory James Edwards full biography here.
Karina Aguilera Skvirsky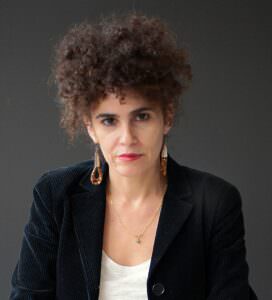 Karina Aguilera Skvirsky is a multidisciplinary artist that works mainly with photographs, video, and performance. She has exhibited widely in the United States and internationally. She participated in the Cuenca Biennial, which was curated by Dan Cameron in 2016 and the São Paulo Biennial in 2010. She has participated in numerous residencies and received multiple grants including Anonymous Was A Woman (2019), NYFA (2019), NALAC (National Association of Latino Arts and Culture) 2018, Jerome Foundation (2015) and others. Currently, she is in the production phase of a new project, "How to build a wall and other ruins" that is being funded by a 2019 Creative Capital grant. Her work can be seen in fairs such as Frieze NY, ARCO Madrid, NADA Miami or Parc Lima, where she regularly exhibits with the galleries that represent her. She is an Associate Professor at Lafayette College.
---
This Dynamic Conversation is a part of a virtual weeklong Martin Luther King Jr. celebration.
JOIN THE CELEBRATION