Gene London (nee Eugene Yulish), 1931–2020
"He was a fond and familiar figure for many adults in the greater Delaware Valley, and over the past several months he became an extraordinary friend to our staff, our members, and our visitors," says Allentown Art Museum president and CEO David Mickenberg of Gene London, the Berks-county costume collector and beloved TV personality.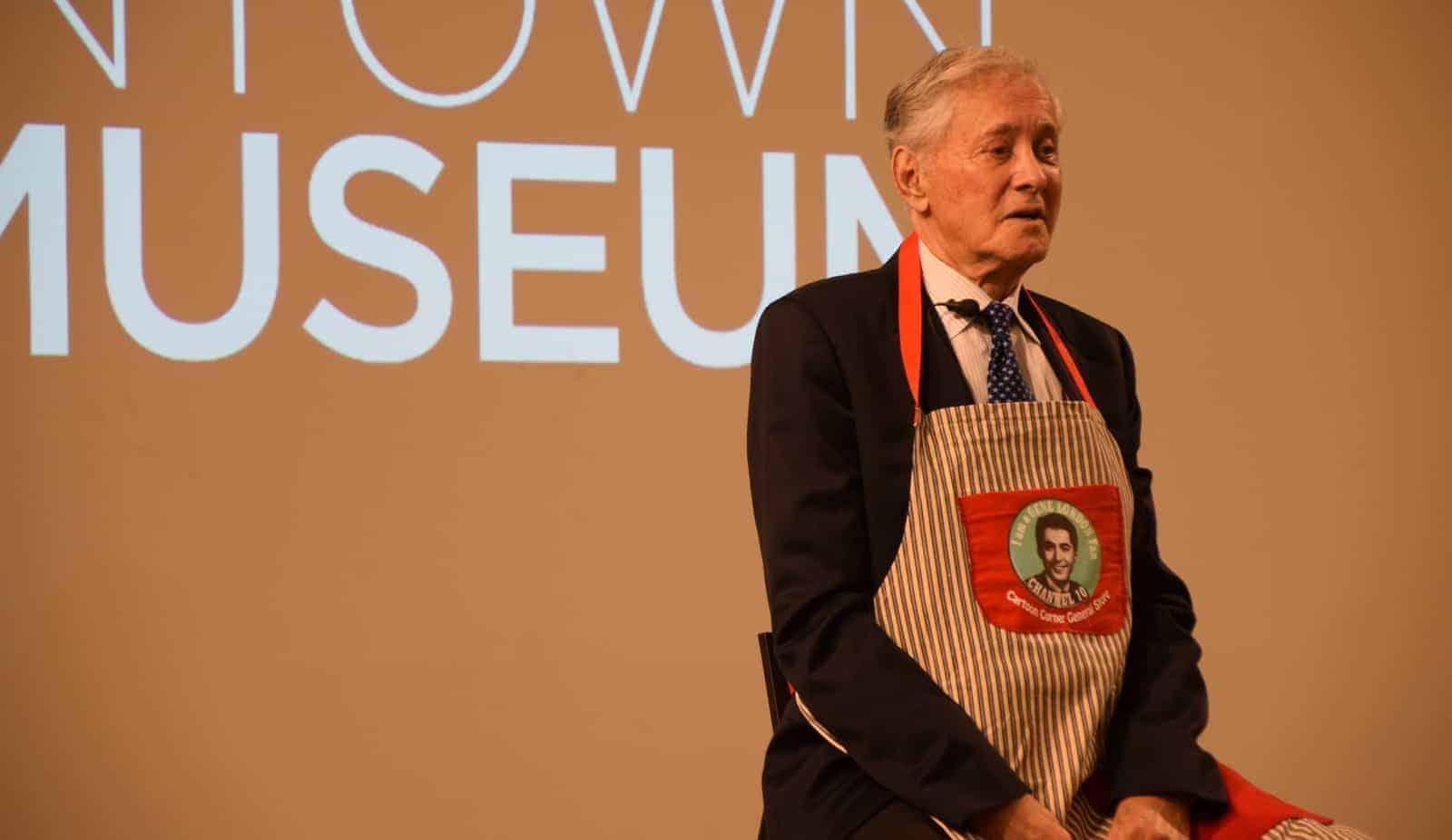 With the sad news of Gene's passing on January 19, 2020, we'd like to share a Q&A that was conducted with him in the lead up to our crowd-pleasing exhibition here at the Museum, Designing Hollywood: Golden Age Costumes from the Gene London Cinema Collection. The 59 vintage costumes from Gene's storied collection, including costumes worn by some of Hollywood's biggest stars, thrilled and charmed nearly twenty thousand visitors during its run at the Museum, from September 28 through December 22, 2019.
---
"Collector extraordinaire savors Hollywood's Golden Age" originally published in Synergy Magazine, the Museum's biannual publication for members.
We met up with bon vivante and costume collector Gene London in his Reading storehouse [in June 2019], where a busy squad of sewists were attending to numerous costumes at once—adding a bead here or a stitch there to complete the look of these iconic works of the Gene London Cinema Collection. Here, months before the opening of Designing Hollywood: Golden Age Costumes from the Gene London Cinema Collection in the upstairs galleries of the AAM, Gene and his team were preparing for the exhibition.
Gene London fell in love with the movies before he could even walk or talk. Today, at eighty-eight years young, this star of children's TV in Philadelphia and New York during the 1950s, 1960s, and 1970s is as effusive as he is animated as he shares his cherished memories and revels in describing the costumes that evoke the magic of the Golden Age of Hollywood.


Q: How did you become a fan of the cinema?
A: My mother, a Russian immigrant, would take me as an infant with her every week to the silent movies in our hometown of Cleveland. I nestled on her lap, delighting in these "beacons of light," and this became a favorite pastime for us. She was my "movie teacher." I couldn't speak yet and she didn't understand English, but it didn't matter because we were delighted by the magic we saw on the screen.
Q: What did you love about movies?
A: Everything! The scripts, makeup, actors and actresses, and especially the costumes. I took in all the details of movies. They provided me with a fantasy, an escape from reality for a few hours. This is why they were so immensely popular in America, providing an escape from the reality of the current events we were living through: the Depression, World Wars, etc.
Q: When did you start collecting movie costumes?
A: I began collecting costumes seriously in the 1970s, going to auctions, thrift shops, and the studios, like MGM, that sold off their movie assets when they were going out of business. I loved the feel of the expensive fabrics, glittering jewels, padding, and other details that were part of the intrigue created by Hollywood in the movies.
Q: How many costumes have you collected?
A: I have hundreds in my studio (in suburban Berks County) from the sets of musicals, dramas, and comedies. My seamstresses mend them and restore them to make sure they're beautiful for the shows and museum exhibitions all over the world, like this one in Allentown. In the past few years alone my costumes have been shown in Texas, Japan, Italy, and Brazil, to name just a few of the places. People love to relive the fantasy of movies by seeing the costumes from them.
Q: Do you have any favorites?
A: I love them all for their power to take me back to those magical times, to help me live my dreams.
Q: What role do costumes play in the movies?
A: Movie costumes in the Golden Age of Hollywood were designed by the era's top designers to accentuate the stars' attractive features, to "package" them as beautiful. They also were designed to hide physical flaws: Betty Davis' long neck and legs, or Joan Crawford's "generous" derriere. The audience never saw these imperfections. It was all part of the magic of the movies.


---
Kind words from our friends and visitors:
"Many Allentown Art Museum Auxiliary members have fond memories of Gene London, and were loyal fans when growing up.  Some were fortunate enough to meet him personally over the past few months on his visits and appearances at the Museum.  The membership thoroughly enjoyed his costume collection and the memories they invoked of some great movies of their past.  Thanks for the memories, Gene!" – Allentown Art Museum Auxiliary
"We were able to meet him this past September prior to the opening of his exhibition at the Allentown Art Museum and were "wowed" for nearly every minute." – Lehigh Valley with Love
"I had the privilege and honor of providing music for the opening weekend of that exhibit. I was also honored to be able to talk with him that weekend and share my memories as a child plus to thank him for introducing so many kids to drawing, including several friends who now as adults admitted to me they developed their interest in art because of him. He was a gracious and charming man while we reminisced about his show, plus other children's TV hosts at that time. Along with those like them plus the late Mr. Rogers and now Gene London, the world needs more special people to fill this void on TV for children to look up to and learn from. Thank you for being a shining light for young children and also inspiring many of them to develop an interest in art." – Piano Entertainer Joe Lazorik
"I had the pleasure of meeting a childhood star. Gene London gave my Sunday mornings a sense of peace and he gave me a love of art." – Brenda Kurapka Nagle
"Loved meeting one of my childhood idols – Gene London – and seeing some of his exquisite Hollywood costumes." – Ann Wlazelek
…and many more great things said about the late and great Gene London.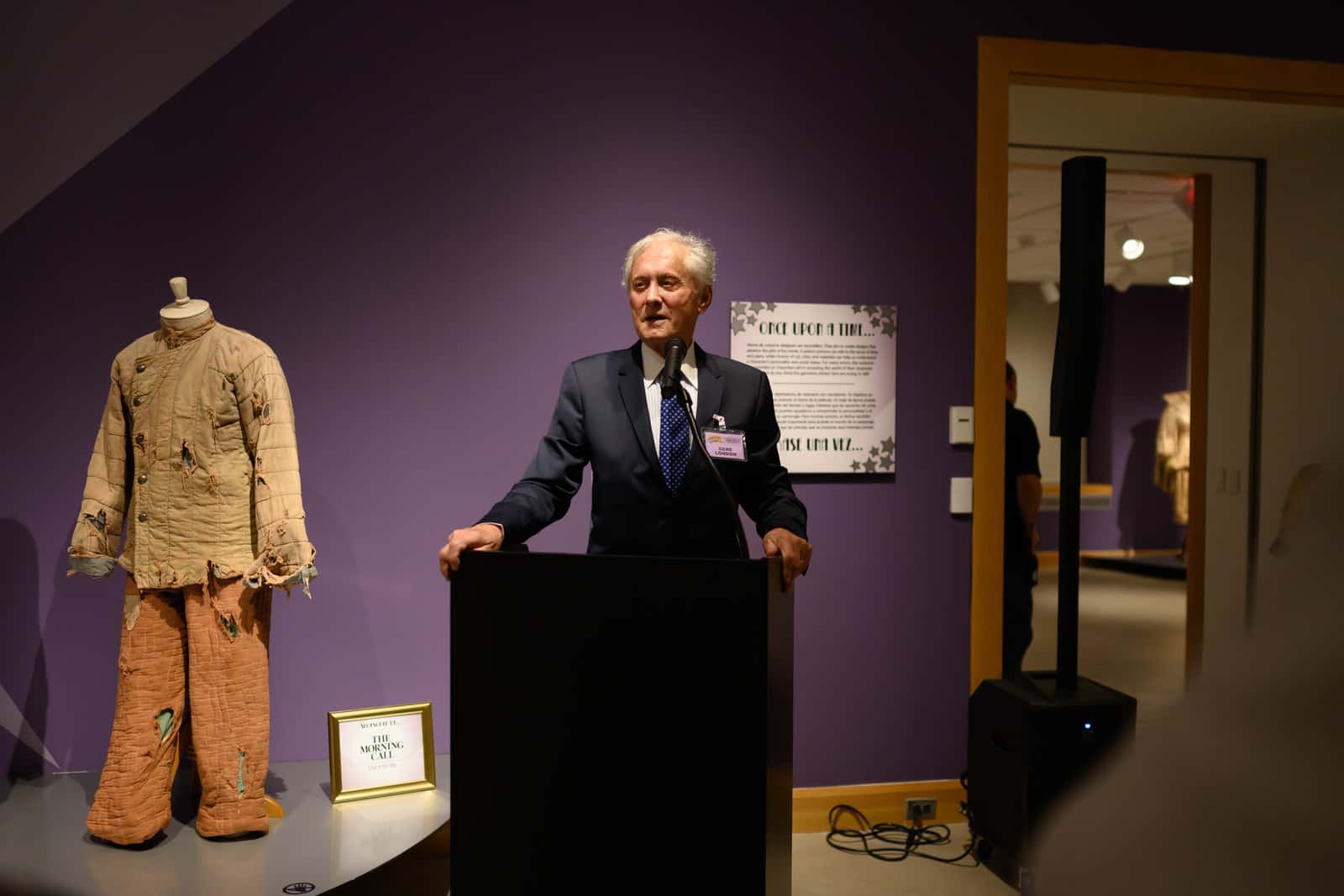 We miss him already.