The Allentown Art Museum's upstairs Art Ways Interactive Family Gallery has always been a safe and engaging place where children can explore art making, creativity, design concepts, and critical-looking and -thinking skills. Studies show that these formative experiences with art can expand a child's world and grow her and his confidence and abilities. As we welcomed visitors back to our galleries in ever-increasing numbers over the past year, we noticed that many of those who were most eager to return to the Museum—and for multiple visits—were families. A plan was developed to expand our Youth & Family programing, to increase access to art education for all families, and to engage new audiences.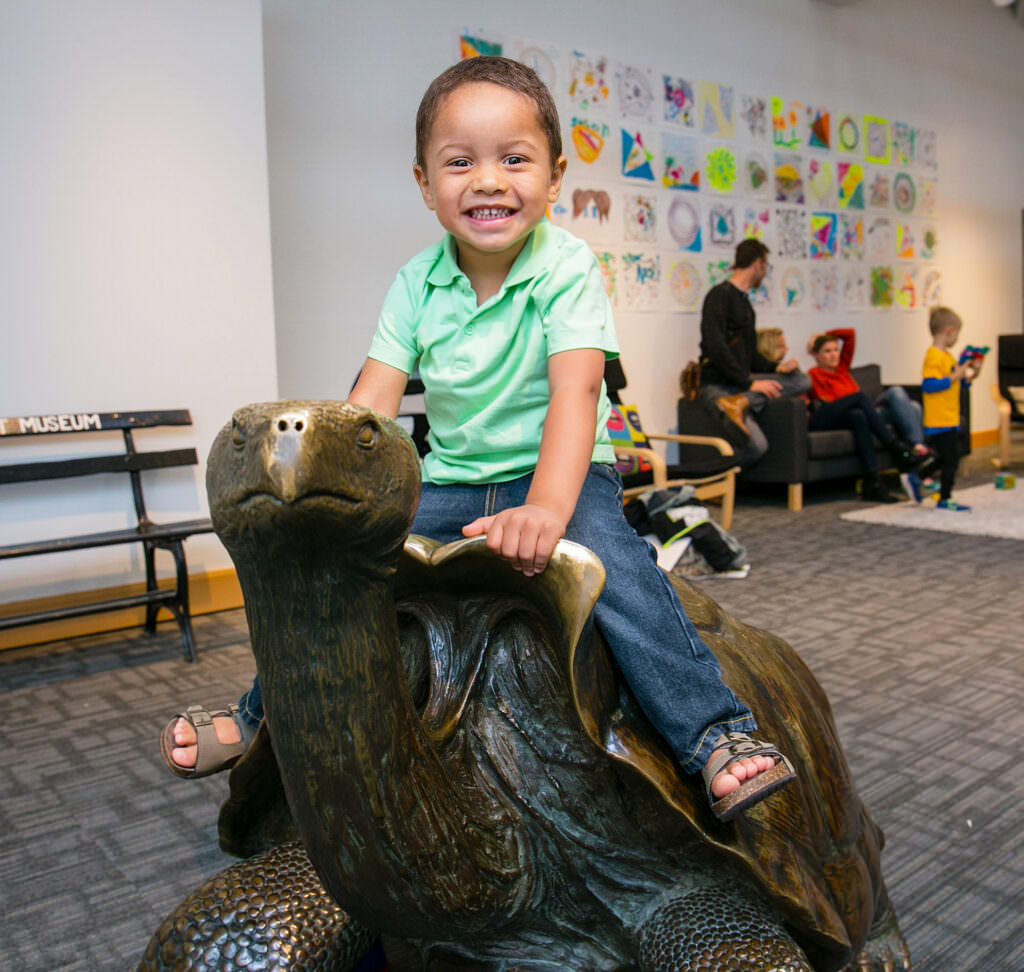 These are the initiatives we are kindly asking you to support with your contribution to our Spring 2022 Annual Fund campaign. For those of you who have been inspired by art, perhaps during a visit to our Museum, please help offset our day-to-day expenses and, this year, achieve the very reachable goal of art education for all in our community.
Parts of our expanded Youth & Family education plan are already in place, with others coming online soon. We are humbly asking for your help in sustaining them. In February we began offering our popular ArtVentures art-making sessions on Saturday as well as Free Sunday, literally doubling access to this high-quality educational experience. We already have seen a 61% increase in ArtVentures attendance over last year, and we estimate that the program will serve 5,500 more youngsters and their caretakers each year going forward. Beginning June 16, we are inviting all Lehigh Valley teens into the Museum on Thursdays for Open Studio Afternoons, where they can engage with art in a fun, age-appropriate environment. Increased participation in Museum programs means increased costs for materials and staff time. Your help is essential.
"I am so appreciative of how family friendly the Museum is, and the wonderful way it exposes kids to art."—ArtVentures visitor, 2021
Another exciting Youth & Family initiative this year is the installation of Maker Stations in Art Ways in the summer of 2022. The Stations will attract young visitors—those who have been to the Museum before, and many who haven't—with new technologies and STEAM-based programming. STEAM education uses Science, Technology, Engineering, the Arts, and Math as entry points to learning. All in our community will have access to a 3-D printer, digital-media production suite, art-conservation tools, and more. Successful programs like the language-immersive Arte en Español will continue to serve diverse audiences. All of these educational efforts need your support.
"My 6 year old and I loved the experience at the Art Museum."—Arte en Español visitor, 2021
If art education for all in our community is an idea you support, then please help us reach our Youth & Family education fundraising goal of $35,000 with a tax-deductible donation today. To kick-start the campaign, an anonymous donor has pledged a lead gift of $5,000. Please join them in supporting our Spring Annual Fund appeal. Any sized gift makes a big difference and is greatly appreciated.
Sincerely,
Max Weintraub, AAM President and CEO
DONATE NOW TO AAM ANNUAL FUND—THANK YOU!